Online mattress retailer Amerisleep had a problem that was quite similar to Budapester's:
The company was seeing a ton of traffic on its website, but its conversion rates were nowhere near where the team would have liked them to be.
However, with the help of Growth Rock, Amerisleep decided to take a different approach to improving its website:
Rather than adding or deleting certain information, the team decided to focus on improving the messaging of the site's copy—in a few ways.
First, the team dug deeper into the true benefits their products provide their customers. In Amerisleep's case, this meant going beyond promising "a good night's sleep," and instead focusing on how getting a good night's sleep every night can be absolutely life-changing.
Secondly, the team aimed to reduce hesitation among its visitors by addressing the importance of immediate action. Rather than discussing the above benefits in a more hypothetical manner, the site's copy was adjusted to address the idea that every night spent tossing and turning is another night visitors will never get back.
Lastly, the team tweaked some rather ambiguous copy comparing Amerisleep's products to its competitors' and made it more clear.
Originally, the website had made claims such as "No mattress is more carefully engineered." The problem, here, is that this could be interpreted as "No mattress is more carefully engineered—but many are engineered equally as carefully as ours."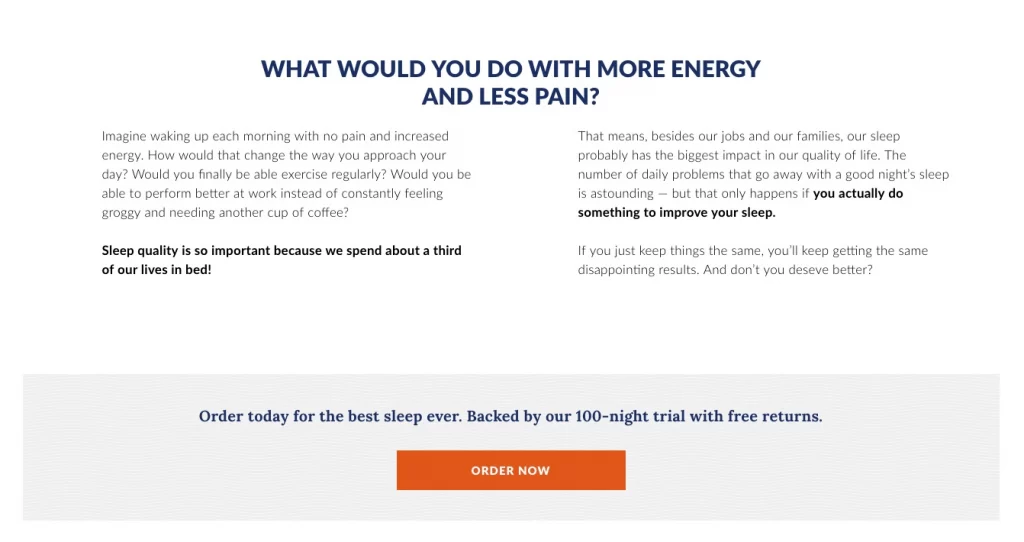 "Our innovative and proprietary materials let us build one of the most comfortable mattresses ever"
Much stronger, no?
Again, these relatively minor tweaks had major implications for Amerisleep: That 13.9% increase in conversion rate we mentioned equated to millions of dollars in added revenue over the course of the next year.
Take home message
The overarching takeaway here is to write your copy with your audience in mind at all times.
This means:
Ensuring they understand the true value your product will bring to their lives, and what it will enable them to do or accomplish
Instilling a sense of urgency in your visitors, so they not only understand what they have to gain from using your product, but also what they have to lose by not using it
Double- (triple-, and quadruple-) checking your copy to be absolutely certain it means what you want it to mean—and that your visitors will interpret it in the same way