By now, you're probably well aware of how effective influencer marketing can be in spreading brand awareness and social proof, and increasing engagement among your target audience members.
A few years ago, rental clothing e-retailer Gwynnie Bee realized this exact same thing. While the team had experienced a decent amount of success using a number of other marketing strategies (such as Facebook Ads), they knew they could be generating a lot more business than they were.
So, the company partnered with Reelio to get the ball rolling.
Working with Reelio, Gwynnie Bee began digging through YouTube's massive database of influencers in search of those who aligned with the clothing company's target market.
The team's first order of business was to create a list of potential candidates who fit the "surface-level" characteristics of their target market. This meant finding influencers who were female, aged 18 or older, and who typically wore clothing of sizes 10-32.
Now, here's where Gwynnie Bee diverged from the "typical" path most brands take. Rather than looking specifically for individuals who often worked with other fashion companies, GB also considered those whose audience overlapped with their own. This meant looking at influencers who create content related to more tangential topics, such as lifestyle, accessories, food, and more.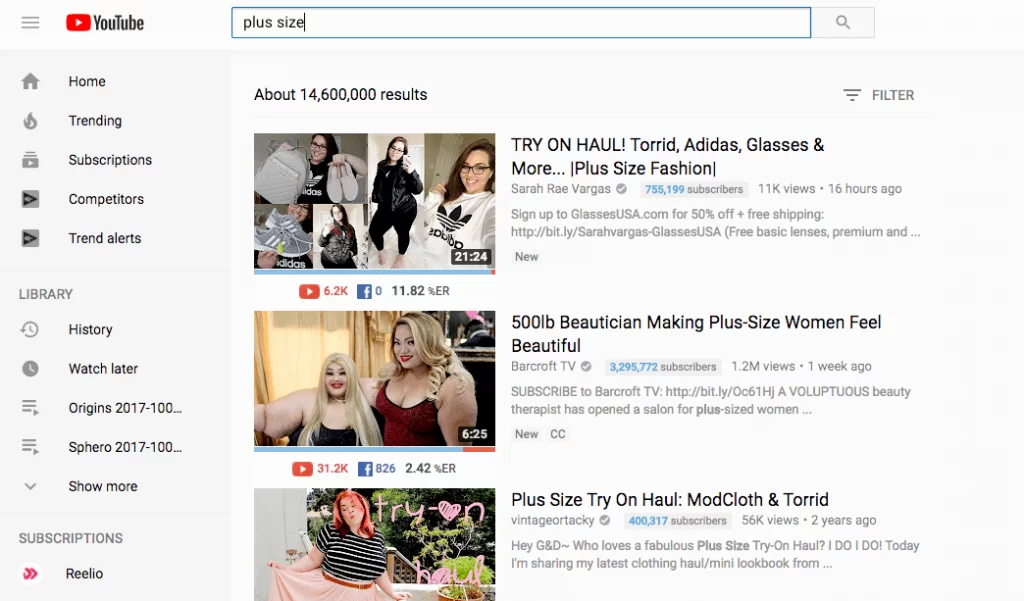 The team then developed guidelines for their chosen influencers, which enabled them to create content that was authentic and non-scripted—but that also aligns with Gwynnie Bee's overall marketing goals, as well. In addition to creating content to be presented on the influencer's channel, GB's influencers also created a virtual "closet" on the brand's website to showcase the specific items they loved most.
The results of Gwynnie Bee's influencer campaigns were…well…pretty darn good. While the average click-through rate of all influencer campaigns hovers around the 2% mark, GB's campaigns saw a CTR of 5.85% — nearly three times the average.
Take home message
If you're just getting started with influencer marketing, the main thing to focus on is finding content creators with an engaged audience full of consumers who align in some way with your own target market.
They don't have to overlap entirely, but you, of course, want to be sure that the people who end up seeing your products will have a genuine appreciation for, and interest in, your brand.
As far as content creation goes, you'll want to provide your influencer's with almost completely free rein in order to ensure authenticity. This will communicate to your influencer's audience the idea that the influencer actually uses your products, and aren't simply promoting them because they're getting paid for it.
Finally, you might also consider inviting your influencers to create content on your channels as well as their own platforms. Again, this will prove to their audience that they truly are superfans of your brand who actively engage with everything your company has to offer.