Underwater Audio had a problem with visitors who were in the middle of their sales funnel, researching specific products but then dropping off at the comparison page. When they noticed this leak they decided to get to the bottom of it.
Here are the old and new versions of the page. At first glance, they don't look too different, but the devil is in the detail.
The original one was a bit more cluttered with the table formatting breaking up the flow of information. To test what the problem was, they redesigned the comparison page to make it simpler and more streamlined.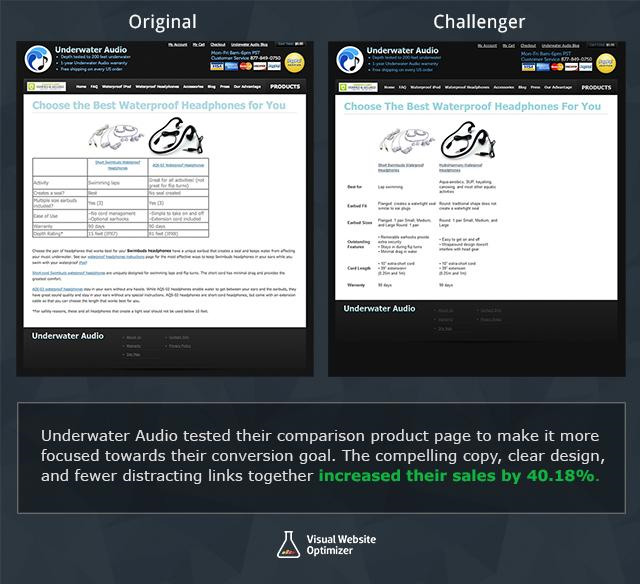 As their CEO said:
"The (rather) unattractive table had information in terse phrases organized in no particular fashion (activity, seal, size, features, warranty, depth). The paragraphs continued below the fold and essentially repeated the table, with only a few unique additions hidden in the text. In short, it was not the most engaging page!"
The new version did away with the data tables, streamlined the text, and put everything above the fold.
The result? The redesigned page had an increase in online sales of 40.81%.
Take home message
To quote Occam's Razor, "the simplest solution is often the best" and the simpler flow worked wonders for Underwater Audio. Find pages in your pipeline where users are dropping off and see how you can simplify them to focus your customers.